StakeCube is an exchange registered in Germany. There are only two other exchanges that we know of from Germany: NAGAX and Bitcoin.de.
As a few of its advantages, StakeCube mentions on its website that it is automated & managed, has "no requirements" and that it is community based. Under the item "no requirements", the platform explains that it has a user friendly interface, that it is transparent and that it is secure. Naturally, UX, transparency and security are extremely important factors when choosing a trading platform.
According to information on the platform's website on 7 October 2019, it has 27,000 users. This is quite impressive. The platform also supports 45 coins and have 11 team members working with the project.
This exchange does not explicitly state that US-investors are prohibited from trading. Accordingly, we do believe that US-investors can trade here.
StakeCube Coin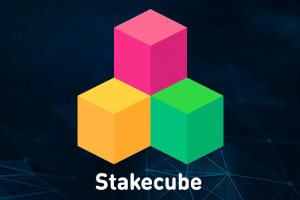 The platform also has its native token, the StakeCubeCoin (SCC). The SCC is a masternode coin. If you hold SCC Masternodes, you will receive certain advantages at the trading platform but also in other parts of the StakeCube ecosystem. Providing benefits to holders of a native exchange token is a quite common way for exchanges to incentivize their users to purchase the exchange tokens.
StakeCube APPS
Wallet
Highly secured web wallets with personal deposit address, detailed overviews and information. Deposit and withdraw at any time and use your coins in any available app. Rewards are automatically added for coins with PoS and interest system. 60+ supported coins, fast transactions, no fees and much more!
Exchange
Powerful crypto exchange and trading platform with fast matching engine, clean user interface and the most unique features. The exchange is fully integrated into the ecosystem and linked to all other apps. Coins waiting in open orders still generate rewards. 120+ trading pairs, arbitrage infos against other exchanges
Nodecube
Masternode hosting system, trustless with cold setup and/or fully managed directly integrated into the ecosystem. The masternode program provides maximum uptime, automatic and painless updates for affordable prices – paid with SCC. 4000+ masternodes hosted, easy and friendly setup
Shared MN
Collective masternode pool with shared masternode technology. Rewards / status monitor and useful information. Ideal for every newcomer (and experts), no technical requirements necessary 600+ masternodes hosted, new shared nodes daily, highest rewards, lowest fees and much more!
Interest
Compounding crypto interest system with the highest rates, calculator, daily payouts and no lock time. Four different and automated income streams offer a payout guarantee. Latest cold storage technologies and proof of funds are fully transparent and traceable. Up to 12% interest p.a., 4 high marketcap coins supported, no lock-in periods and much more!
Minecube
Crypto mining made easy. Use SCC to obtain workers (share of physical miner) and earn daily rewards for BTC, ETH, DASH, LTC, DOGE or SCC from our pool mining operations. Latest hardware guarantees solid income. One worker is already enough to generate your first yields. Daily payouts, low fees, growing overall hashrate much more!
What I like about SCC ?
How transparent and honest the team is. Moreover, in my experience – even though most of the support is unfortunately still done via Discord – the support team is competent, friendly and quick.

What could the provider do better?
Stop using Cloudflare. Cloudflare is incompetent and monitors the users of hosted services. Furthermore, the captcha system is annoying. Cloudflare also makes it relatively difficult to reach the exchange via Tor.
If you are small investor and you want a reliable stake company to start with I would recommed StakeCube.
Happy Earnings!
You can claim some of StakeCube coins from our crypto faucets for free and start staking. Our most popular one is Reddcoin (RDD) faucet