Chain Clash is the newest fighting blockchain game on EOS all about clashing and training avatars. Free-to-play with promising prospects, climb the leaderboard using dNFT fighters and stand-out among your clan. After all, its the battle of the clans. So is Chain Clash worth playing? Let's find out 
Start for free with one avatar and unlock various rewards that will help you progress faster by completing multiple challenges and daily quests. Chain Clash is a prominent fighting game but you can't really control your avatar during the fight because of the asynchronous battles. Chain Clash avatars are going to be interoperable, meaning that you will be able to use them in other games.
How to play Chain Clash!?
The easiest way to play Chain Clash is by using Wombat wallet for Android & iOS. Wombat creates a free* EOS account for you, and you can start playing right away. Other workarounds are Wombat extension for chrome, or Scatter for PC, keeping in mind that Scatter requires paying for account creation, so unless you have it already set up, i suggest going with Wombat.
Use my referee code: alem.ftw – To get free in-game items that will help you boost avatar. Go to profile and click invite friends and enter my code in your reffere and invite your own. 
Once you setup your EOS wallet and access Chain Clash, you will see a notice to claim your first free avatar. By clicking it, you will be transferred to the store where you can choose your fighter between the six available clans.
I chose to fight for the Ethereum clan, and just like that, the Avatar-35671 was born. Before you decide which side to fight for, you might want to check the clan ranks. After five days of playing, i found out that rankings change frequently, and the last clan might reach the first place easily. Additionally, each avatar stats behave differently based on the clan it belongs to. For example, the Bitcoin network is stable but not frequently updated. As a result, Bitcoin avatars will gain more strength when leveling up, but less agility. Once you get your first avatar, head over to the Challenges screen, and claim your first training ticket. Train your fighter and to unlock another one!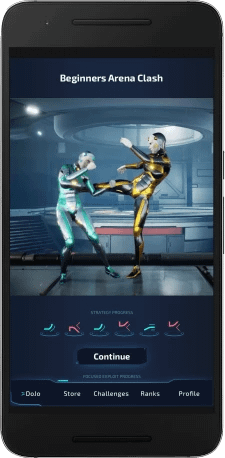 Your avatar! What can you do?
First things first, avatars (fighters) are dNFTs on the EOS Blockchain, meaning that they are stored in your wallet. You can also trade them with other players in any Marketplace that supports EOS tokens. The more you train an avatar, the higher its value becomes.
Avatars are the pillars of the game, they all come with the same attributes and evolve differently based on the clan. Besides the five different rarity tiers, and each one has its own appearance and different level cap. 
Now it's time to find out the avatar's attributes. Take a good look at the table below and find out what attributes do. Make sure you spend your Shards (attributes boost) wisely. A good way could be on what your avatar lacks from the clan's performance.
Attribute Description Strength The amount of damage you cause to the opponent. Resilience Lowers the damage taken from the opponent. Agility How fast your avatar moves. Wisdom How well your avatar can predict opponent's next move.
My newly created Avatar-35671 is ready for the first fight. The attributes are all the same (10), and they can be upgraded through training. Matchmaking takes place with players of the same power, so you don't have to worry that someone with a better avatar will crush you.
Once you click the "Clash" button, you will have to choose the arena to fight in. New players can only join the "Beginners Arena," as you level up, other fields will get unlocked.
The next thing to do is define your strategy. The strategy consists of six moves and offers an element of luck. If you find your self loosing against a single opponent, this might indicate that you need to change your strategy.
The available offensive moves are Hook, Kick, and Punch. The defensives are Low block and High block.
Avatar-35539 won the battle against me, which indicates that I need to change my strategy and train. After fighting a few battles, you will unlock numerous challenges that will reward you with more training tickets and, at a later date, with health kits and other usable in-game items.
Training your avatar is essential to become powerful and defeat your opponents. You need 1 training ticket per two hours of training, and if you are playing with one avatar, the challenges will reward you a fair amount of training tickets to boost your stats. In case you would like to have more than one avatar, a wise option could be to get a combo bundle from the sale page. Training for 24 hours will grant you a shard to level up your stats.
It's a good game. While we say it's a fighting game, it's more like a clicker/idle. Since battles are asynchronous, you focus on finding the ideal strategies and gaining experience. The in-app purchases offer some advantages and they don't twist the gaming experience of the others.
After five days of gameplay, I completed all the tutorial challenges, and there is only one quest left. The daily challenges offer some rewards, but i would love to see some more.
 Go ahead, start playing. It's free! Idle gamers will value Chain Clash, it's a game that doesn't have a cap, you can play for months and train every day. The future tournaments will always give you an extra reason to play and the Seasons are going to be the Chain Clash Olympics. I'll be training till then.
Follow us on social media