Project Overview
Biswap is the first decentralized exchange platform on the market with a three-type referral system and the lowest platform transaction fees (0.1%). Biswap is a decentralized exchange platform for swapping BEP-20 tokens on the Binance Smart Chain network. This network guarantees superior speed and much lower network transaction cost.
Biswap is very similar to PancakeSwap in its early stages, but with a strong community. If compared with the same PancakeSwap, here the fee is 2 times lower and in fact that's why people just started switching here to exchange, because when exchanging tens of thousands of dollars, this is essential.
Core Products
Biswap Decentralized Exchange is an automated market maker (AMM) that allows a user to exchange two tokens on the Binance Smart Chain network. The liquidity provided to the exchange comes from Liquidity Providers ("LPs") who stake their tokens in Liquidity Pools. In exchange, a user gets LP tokens that can also be staked to earn BSW tokens in the "Farms".
When a user makes a token swap (trade) on the exchange, a trading fee of 0.1% will be charged, which is broken down in the following way:
0.05% is returned to liquidity providers in the form of a fee reward
0.05% is used for BSW token burning
Liquidity Pool
When you add liquidity to the pool, you will get LP tokens. When someone makes a token swap, a transaction fee of 0.1% will be charged. 0.05% will be returned to liquidity providers in the form of a fee reward. The liquidity pool will also allow you to stake your LP tokens to earn BSW tokens in the "Farms". Hence, apart from earning income from token swap transactions, a user will be able to stake LP tokens and earn BSW tokens.
Farms
Biswap Farms offer multiple farming opportunities to our users. You can stake your LP tokens and earn BSW tokens in return. We will incentivize many liquidity pairs by offering our Liquidity Providers the chance to stake their LP tokens in our farms.
Launchpools
Biswap Launchpool is a less resource-intensive alternative to mining. It lets you use your tokens to earn more tokens, for free. Simply put, you lock your cryptocurrency to receive rewards. From the very beginning, a user can stake only BSW tokens in exchange for more BSW. We are planning to add more opportunities (tokens) in the future but for now, you can only stake BSW in exchange for BSW.
What makes BiSwap so damn good !?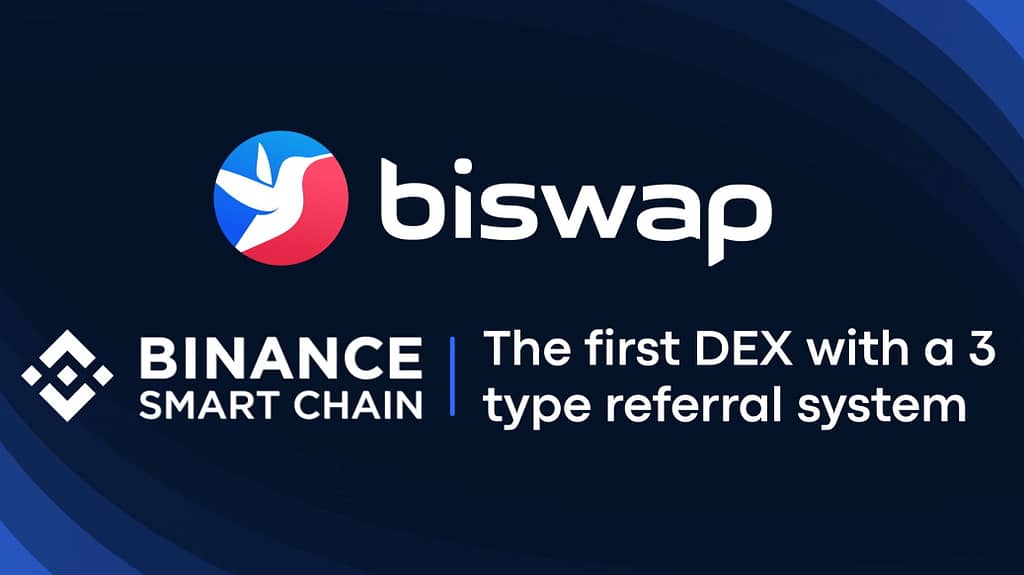 The greatest thing about Biswap is its rewards. The current staking reward for just staking BSW is over 350% APY, and that is only APR. This means that the staking can be staked, thus earning even more rewards. Biswap's staking rewards are expected to decrease as inflation kicks in and it gains popularity, which is why it is a good time to get into Biswap. Staking BSW tokens you can earn diferrent top ranked crypto tokens like CARDANO(ADA) , RIPPLE (XRP) , LITECOIN (LTC) , DOGECOIN (DOGE) , TRON (TRX) and many more.
STAKE BSW
3-Type Referral System
Biswap gives you an opportunity to maximize your rewards. Hence, you can invite your friends to register via the referral link and receive rewards from our three-type referral program. Referral rewards can be received from Farms & Launchpools. Swaps referral program will be enabled after deactivation of transaction fee mining.
Let's say, you invited a friend and he/she earned 5 BSW from either "Farms" or "Launchpools". As a result, you will receive 5% from 5 BSW, which accounts for 0.25 BSW.
Biswap referral program will work in the following way:
Exchange. You can expect a certain commission reward every time your invited friend makes a swap. Referral rewards from exchanges will be sent to your balance immediately after a swap. Referral rewards from exchange transactions will be active for certain pairs.
Farms & Launchpools. You can expect 5% return from your friends' earnings. Your referral rewards will be visible and ready for withdrawal from your referral accounts when your invited friends will withdraw BSW tokens to the wallet.
All your referral rewards will be sent to your referral balances in BSW tokens. All the fees will also be charged in BSW tokens.
You will have three separate referral balances, including:
Swaps referral balance
Farms referral balance
Launchpool referral balance
Buying and staking BSW is easy and simple. Below are the basic steps of getting BSW and staking it into its lauchpool for MetaMask.
Getting onto the BSC network
1. Open MetaMask and go to 'Settings'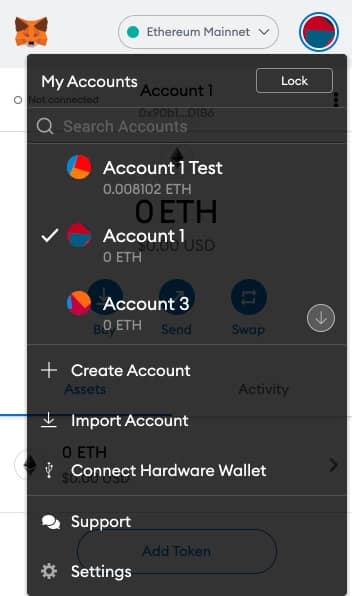 2. Select 'Networks' and press on the 'Add Network' button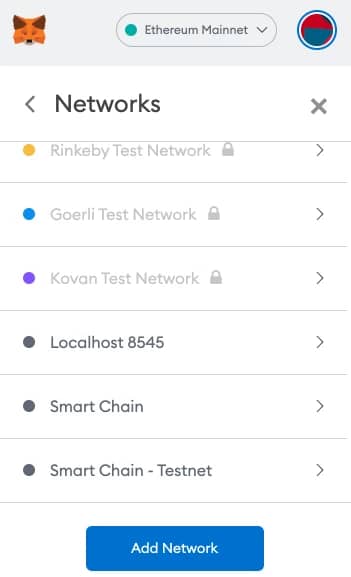 3. Put in the following information for the new network (i.e. BSC):
Network Name: Smart Chain
New RPC URL: https://bsc-dataseed.binance.org/
ChainID: 56
Symbol: BNB
Block Explorer URL: https://bscscan.com
4. Select the newly created BSC network. This connects the MetaMask wallet to the BSC network. If you have already connected/saved the BSC network, these sets of steps can be skipped and into the next stage.
Connecting MetaMask to Biswap
5. This is easy. Click the 'Connect wallet' button that can be found on the top-right of the website.
6. Then click on 'Metamask' since that is the intended wallet here.
Buying BSW
7. Now connected on Biswap, head over to 'Exchange' on the side menu.
8. In the 'To' box, put in BSW.
9. In the 'From' box, put in whatever currency available. Options are shown below.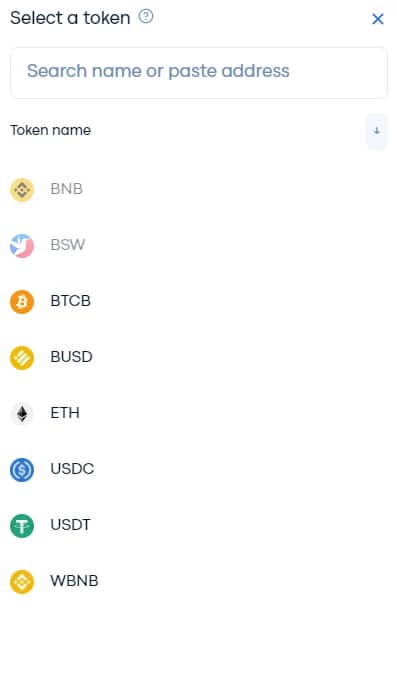 10. Now enter the amount wished or select the 'Max' option to put the maximum amount that can be put in for a successful transaction.
11. Click on 'Swap,' accept the transaction, and now the entered amount will be converted to BSW, thus buying BSW.
Staking BSW
12. From the menu, go to 'Launchpools'
13. Click on 'Approve BSW'
14. Process the transaction.
15. Enter the desired amount into the launchpool.
16. Click on 'Harvest'
17. Process the transaction and you are done!
If you are considering using Biswap, please use the referral link given below to support me at no extra cost! Thank you all for reading. Happy Earnings!