PipeFlare is the largest casual play-to-earn game platform on the Blockchain. PipeFlare now features six play-to-earn games and plans to have 30 by the second quarter of 2022. PipeFlare collaborates with independent game developers all around the world to help them launch and monetize their games to a worldwide audience. Apart from games members can claim daily rewards from ZEC, MATIC, 1FLR(Native Token) ,NFT mystery faucet, join monthly airdrops and participate in 1FLR staking!
Earning from Pipeflares' daily rewards is very easy. You can claim ZEC, MATIC, 1FLR, and NFT mystery faucets once a day. Pipeflare offers lots of different rewards and faucet power ups which can increase your faucet earnings. The first thing you should do is connect your account to social networks, which will give you 1.9x faucet power up and use Brave Browser for claiming which will give you 2x power up. 
On every 7th consecutive day you get 2x power that adds up to 3.5x power up every month and on every 6th day you get free myster bonuse that can give you up to 5$. 
Other Power Ups: 
Referral Multiplier up to 2x 

PipeFlare Supporter up to 2x
Many different PipeFlare NFT up to 5x
PipeFlare distributes more than $2,000 in gaming awards each week. On games, you can earn Flare Tokens (1FLR) or participate in our weekly leaderboards. Each game awards additional ZEC to the top 300 scorers. You can even install games on your smartphone and compete every week.
List of games available:
PipeFlare is one of the greatest cryptocurrency affiliate schemes. You can earn from your affiliates on 4 different levels and claim more faucet power ups. There are 4 Tiers based on number of your referrals and your supporter level as listed in table below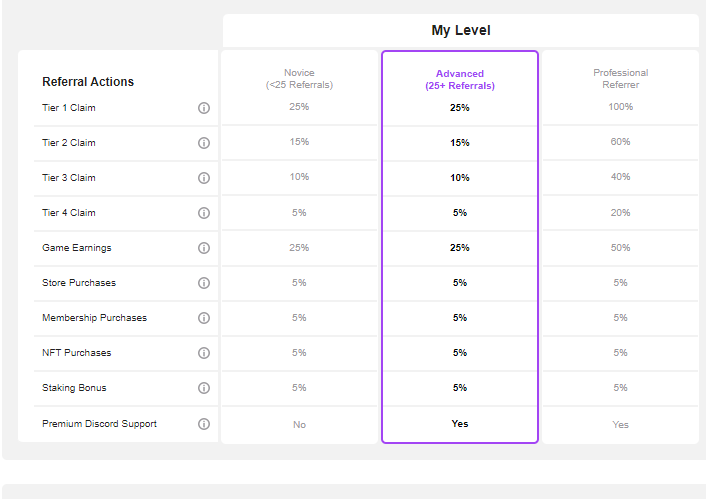 All affiliates earn the following commissions:
---
Faucet Commissions: Every time someone you refer (Tier 1 to Tier 4) uses the faucet, you will also earn a percentage of their claim. (Tier 1 applies to your direct referrals, tier 2 refers to the referrals of your direct referrals, and so on.)
---
Game Commissions: Every time someone you refer (Tier 1) plays a game and wins a leaderboard reward, you will earn a percentage of their reward. Currently, the top 300 players win awards every week.
---
Store Commissions: Every time someone you refer (Tier 1) purchases anything from our referral store, you will earn a commission. The store is located here. The referral store is a great way for you and your friends to start earning income right away
---
Subscription Commissions: Every time someone you refer (Tier 1) purchases a subscription to PipeFlare, you'll earn a percentage of the sale
---
Monthly Competitions: Monthly competition with over $300 in prizes
---
NFT Commission: You will earn 5% of any NFT purchases that your supporters make
---
Staking Commission: You will earn 5% FLR Bonus for any FLR Tokens that your referrals Stake. So if your referral earns 100 FLR by staking their tokens, you will earn extra 5 FLR.
Participate in Pipeflares' weekly and monthly airdrops. Airdrop rewards are distributed based on supporter levels.
Get up to 48% APY Staking your 1FLR Tokens.
To begin, you'll need some 1FLR Tokens. You can earn 1FLR by using the website, or you can buy some in exchange.
Go to your Staking page once you have some 1FLR. This is where you will determine how long and how much to stake.
Increasing Your Annual Percentage Yield
Your Staking APY is determined by your membership tier, NFTs, and the number of 1FLR you own.
Pipeflare offers many different nft's which can increase your platform earnings and give you stable passive income. In order to claim from pipeflare myster faucet you will need Pipeflare exclusive Pyro NFT which offers many benefits like increased airdrops rewards , staking rewards and affiliate commission. Visit marketplace here 
This was brief summary that gives you better understanding of Pipeflare and their earning opportunity. There is many more futures which you can explore if you decide to join PipeFlare for fun or passive crypto income and we strongly recommend to start your journey on PipeFlare. Happy Earnings!