Coinpayu is a (BTC-PTC) Paid-To-Click site that launched in 2019 and performs and operates similarly to other Bitcoin PTC services. It has a good design and you may earn Satoshis for seeing two different types of ads as well as 11 different Offerwalls. Advertising is quite cost-effective and brings in a lot of traffic. They provide an affiliate scheme, and its one of the best on the market. With Coinpayu affiliate system your earnings are unlimited
How can you earn with CoinPayu?
3 Types of Advertisement 
The first is known as Surf Ads. You click on an ad, wait a few seconds, and then you get compensated. After a few adverts, you must complete a captcha to confirm that you are not a robot, which is simple to do. The money is excellent, and the best part is that the advertising do not have to be in focus.
The second form of ad is known as a Windows Ad. You must also click on them while keeping the tab in focus. It becomes tedious as a result, but if you have a second monitor, you may apply a neat little trick. You keep the tab open on one monitor while working on the other. All you have to do is move your mouse over the ad-filled tab. While waiting, you can read or watch something. That works rather nicely and makes the Windows Ads much less annoying. After every few commercials, you must also solve a Captcha.
Coinpayu's Video Ads are the third way to earn Bitcoin. You must, as the name suggests, watch videos in order to be paid. The payment is still good, but it is significantly less than what the other two types of ads offer. Unfortunately, the second monitor method does not work here, but we still recommend watching them because the payment is still good.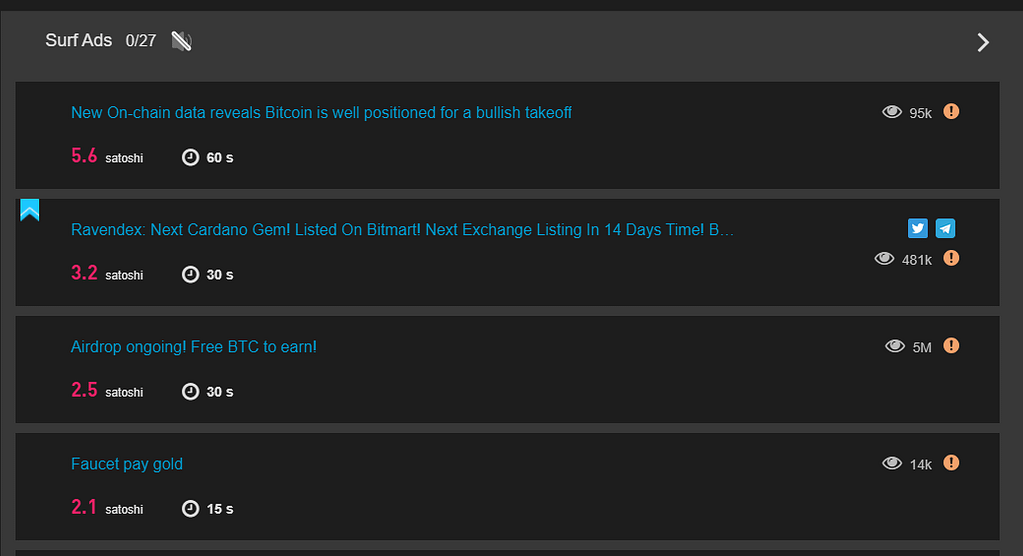 Completing Survey and Offers
In addition to clicking advertising, you can make money by fulfilling offers on this platform. The offer is similar to a tiny task in which you must simply follow the instructions to accomplish it and then be paid. You can make money by selecting from the different offers available on the Offerwall. Coinpayu makes these offers available to you by utilizing third-party plugins. However, they have little control over whether or not the submissions are paid.
Furthermore, because different offers have varying payments, it is always necessary to check and see how long it takes. In addition, you may examine your current and pending offers, as well as your references. If the offerwall determines that the completed offers are invalid, the offer will be charged back.
CoinPayU also offers crypto faucets that give away a tiny number of free cryptocurrencies every hour. Here are the supported crypto coins:
Ethereum
Bitcoin
Doge
Tron
Dash
Litecoin
Bitcoin Cash
Binance Coin
BitTorrent
Cardano
Solana
Shiba Inu
Standard members can claim a max of 4 faucets daily and eight daily for upgraded members. The upgraded member claim value is 200-400% without a captcha requirement.
An affiliate program is one in which an affiliate promotes another person's or their own firm via affiliate links. Coinpayu also provides customers with an affiliate scheme through which they may refer new users and earn passive bitcoin money. To earn through affiliate, simply create an account on Coinpayu, email referral links to other individuals, and urge them to join Coinpayu and earn based on their membership. Furthermore, if you recommend the Coinpayu advertisement through your affiliate link, you can earn up to 20% of the advertisement sales.
If we had to sum up Coinpayu in one word, it would be "awesome." It pays well, the design is simple, and everything works perfectly. The advertisements are simple to view, and you may do them while doing other things. Because the payment is so good, it is simple to withdraw your funds. Even if you have no recommendations, you will be able to withdraw your money in a matter of weeks.